This section presents the latest activities that enFAMILIA is carrying out in 2022 for the benefit of the Community with the collaboration of Guillermo Tafur and Dora Ramírez.
REDLAND CAMP

ENFAMILIA PATH TO SUCCESS (CASITA B)
APRIL 2022
Director: Juanita Olvera 
Tutor: Bertha Avalos
In the month of April, Casita B students worked on a sculpture activity where they used recycled material to create a sculpture of their choice. Students used their self-expression and creativity as they engaged in this activity.         
Students participated in another sculpting activity in which they created small animals and characters. Students also produced a short story that went along with their mini-characters and then they presented their short story to their classmates.
Virtual
Tutor: Alma Méndez
April 2022
During the month of April, students from ECA middle and elementary continued to connect virtually with their tutors. The students received further assistance in I-Ready assignments such as math and reading coursework to prepare them for testing. Students worked on the fundamentals of math such as fractions, rounding, long division problems, and multiplication. Students also worked on reading comprehension, word definition, prefix and suffix, and journaling. For Earth Day, students created a poster describing the things that help the planet flourish as well as the negative impacts that affect our planet.
SOUTH DADE CAMP ENFAMILIA

PATH TO SUCCESS, APRIL 2022
Director: Kathiana Martínez
Tutors: Maritza Pingel, Francisca Juárez
In celebration of the Easter holiday, students participated in an easter egg hunt.
Students had the opportunity to express their art skills as they decorated easter themed cookies.
Students used their agility, hand-eye coordination, and creativity as they participated in a watercolor activity. First, the students traced their drawing with glue and then when the glue was dry, they painted over the drawing with watercolor painting.
Students worked on school assigments such as math and I-Ready with assistance from their tutors.
REDLAND CAMP
enFAMILIA Path to Success (Casita A) March 2022


Director: Juanita Olvera 
Tutor: Janie Mendoza
Casita A students created do it yourself slime. Slime is considered a sensory play which helps students regulate their emotions.
Students worked on a community activity. Using magazines, students used their fine motor skills and cognitive skills to point out important things around their community.
Casita A Students enjoying outdoor time with their peers. Outdoor play cretaes opportunities for social interaction and collaboration.
Students working on different school projects and writing assignments.

REDLAND CAMP
enFAMILIA Path to Success (Casita B) March 2022



Director: Juanita Olvera 
Tutor: Bertha Avalos 
Casita B students used their creative minds to paint a bucket. The buckets will be used for a DIY bench project which will be placed in the Casita B's Garden.
Casita B students enjoying time outdoors. Outdoor play helps students advance their motor skills including coordination, balance, and agility. As well as it builds their confidence while having fun with their peers.
Casita B students learned about the water cycle. Students participated in an interactivty where they prepared to conduct a water cycle model by reviewing their vocabuallary, and ansawered critical questions abot what happens during the water cycle.
Virtual
Tutor: Alma Méndez
March 2022

EVERGLADES CAMP (ECA) continues to provide virtual tutoring to Elementary and Middle school students. Students receive whole group and individual support.
Aside from assisting students with daily home learning assignments, they also participate in learning and engaging activities. For example, the elementary students participated in a health and nutrition activity that was based on the book, "A Very Hungry Caterpillar," where they drew in a chart label, "healthy & unhealthy foods."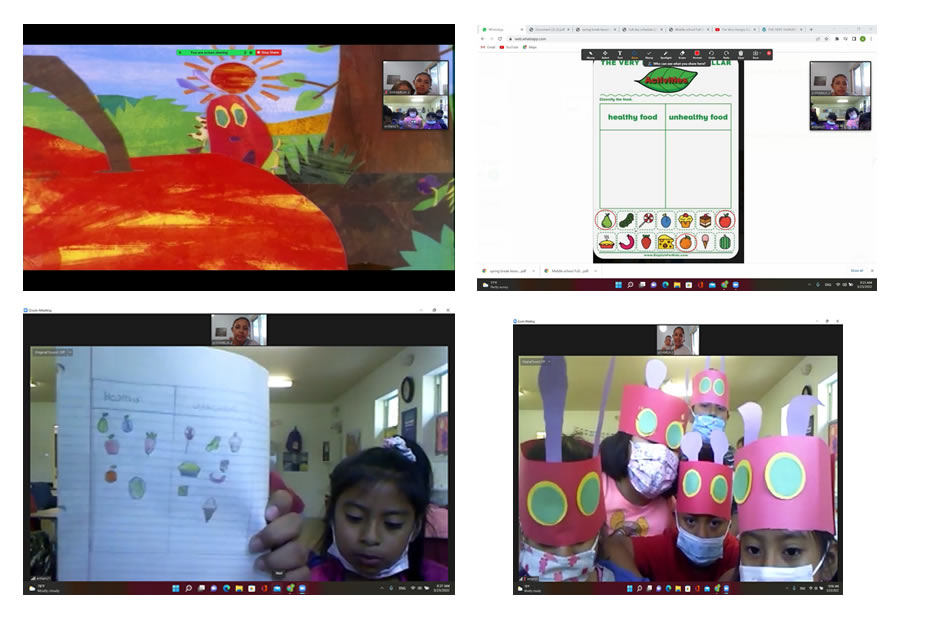 They also discussed the difference between fruits and vegetables and created a vegetable garden using paper plates, string, and paint, among other materials.
Students also learned and discussed the butterfly cycle. They read an informative passage and watched a video of metamorphosis.
SOUTH DADE CAMP enFAMILIA Path to Success, March 2022


Director: Kathiana Martínez
Tutors: Maritza Pingel, Francisca Juárez
Students worked together with their peers and tutor on kidzlit.
Students Participating in SPARK activity with their peers.
Students also engaged in arts and crafts activities that help improve their fine motor skills as well as also worked on homework.
CARE COORDINATION March 2022
Main Office



The care coordination team has continued to open new cases for families in need of recourses. Since October 1, 2021, seventy-seven cases have been opened. They are continuing the process of closing all cases from the past fiscal year until September 2021 and are almost completed. The Care Coordinators work daily with families in need and strive to promote safe families.
In the month of March, the Group Leaders worked on their community action mural. This mural depicts visual representations of issues impacting their community. The Group leaders also met to discuss the summer camp and the expectations of the responsibilities of the "Group Leaders" during the summer camp. 
NURTURING PARENTING PROGRAM
EVERGLADES CAMP
March 2022



Director: Juanita Olvera
The Nurturing Parenting Program in Everglades Camp completed session fourteen in the month of March. In the month of April 2022, the parents who completed the program will be graduating.
REDLAND CAMP
enFAMILIA Path to Success (Casita B) February 2022


Director: Juanita Olvera
Tutor: Bertha Avalos
During the month of February, students worked on their books of the week followed up with questions and activities pertaining to the stories. Students were given the task to redesign the book cover that would best fit the chosen book. This month, students have also practiced their vocabulary by partaking in engaging activities to have their word comprehension skills augmented.
Tutor: Alma Méndez
February 2022
During the month of February, the Elementary and Middle School students from ECA continued to connect virtually. Students received assistance in completing iReady assignments in mathematics and reading.
Students also completed Black History month school projects for the center.
The Elementary students participated in story time where they read books such as, Duck for President, and followed up with an activity.
SOUTH DADE CAMP
Report (February 2022)

Director: Kathiana Martínez
Tutors:  Maritza Pingel, Francisca
In the month of February 4-5 grade students worked on Black History month art activities.
Students worked on their school assignment's such as Math.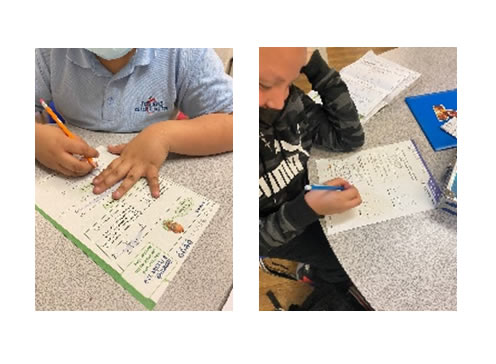 Students read the story, A color of his own the story taught students about watercolors and to go along with the story they did a watercolor painting activity.
REDLAND CAMP
enFAMILIA Path to Success (Casita A) February 2022

Director: Juanita Olvera –
Tutor: Janie Mendoza
Casita A students worked on creating Valentine's mailboxes. The children used their creativity skills and fine motor skills to design beautiful and interesting works of art. In high spirits for the upcoming holiday, students also shared Valentines cards as a class activity. Students also expressed their enthusiasm while they worked on creating their personal art using their own names!

REDLAND CAMP
enFAMILIA Path to Success (Casita A) January 2022

Director: Juanita Olvera –
Tutor: Janie Mendoza
Student working on an iReady assignment for upcoming testing.
Students participating in raining activity and working on their gross motor skills while having fun with the rest of their peers.
REDLAND CAMP
enFAMILIA Path to Success (Casita B) January 2022

Director: Juanita Olvera  
Tutor: Bertha Avalos
Children used fine motor skills and their creativity to create hanging paper mâché piñatas.
Students demonstrated their writing skills while communicating about their experiences. They wrote about what they did during winter break and the fun things they conducted.


5 Care Coordination Report January 2022
A total of 61 cases were opened since October 2021. We continued working on almost 24 additional cases from the fiscal year period 2020- 2021 which we must close this month. Our community's unique needs for low-income families are listed as follows:

Mental health: adult therapy and children therapy
Education: after school programs and ESOL classes
Basic needs: housing assistance to pay rent and utilities
Parenting skills: financial coaching, nurturing parenting classes
Legal: immigration services, legal advice for divorce, child support

These are several examples of cases that are presented to the care coordinators daily.
7 ECA Virtual Report (January 2022)
Tutor: Alma Méndez
During the month January, enFAMILIA Everglades Path to Success continued to provide tutoring via Zoom for its middle school students. This methodology has allowed students to receive individual support to complete iReady and home learning assignments. Students who have been impacted by COVID are unable to attend our afterschool program. As a result, they can connect virtually in an efficient way. Furthermore, this allows the students to receive the help they need and allows them to complete assignments in a timely manner. This approach also helps the students at the afterschool program because of the individualized assistance that is guaranteed by the instructor in small group sessions. 

8 Trauma and Healing Groups, January 2022.
Therapist: Maria Crespo
The women's group is a trauma and healing group provided by enFAMILIA towards women affected by traumatic stress. Each group includes mindfulness, emotional check-in, feedback on strengths and visual image/metaphor development to acknowledge and release trauma. In addition, we conducted a session that made the women maintain movement with their hands using watercolor art as a form of therapy. Each session is given by a licensed professional with a concentration in family counseling/therapy.
Students creating creative art. This activity allows students to enhance their motor skills, language development, decision making, visual learning and cultural awareness. The arts encourage students to rick-free exploration, and it is this freedom that builds confidence.


NURTURING PARENTING PROGRAM
9 NPP- January 2022 Report
Director: Zoila Silva
enFAMILIA is pleased to serve farmworkers and low-income families within our community. Providing free parenting classes such as Fatherhood and Nurturing Parenting allows for better outreach to the people we want to serve. The goal is for parents to form positive relationships with their children. The classes are for parents and their children from birth to 11 years of age. By attending the classes, parents learn how to evaluate their abilities and strengthen their nurturing parenting as a lifestyle.
Parents are provided with information about community resources, should they need it. For example, enFAMILIA offers English classes, summer camp and therapy services among other programs. They give referrals to the different community agencies and follow-ups are done with each family.
At this time, parenting classes are offered at Redondo Elementary and Everglades Camp Association. We call our parents a day before to remind them of the class, making our groups very successful.
Community agencies have collaborated with our center significantly. Everglades Community Association donated 10 gallons of paint to cover the two units that are used for our tutoring program. Parents volunteered their time and collaborated in painting and arranging the classrooms. This has established a clean and organized environment where children can efficiently receive support to complete home learning assignments and eat healthy snacks. It is a safe place where parents pick up their children after a long and hard-working day as farmworkers.
Our student garden progress. Gardening allows students to develop responsibility from caring for their plants, teamwork, understanding, and creativity.